Calculate the cost of DDoS attacks by analyzing a different of parameters that influence its impact.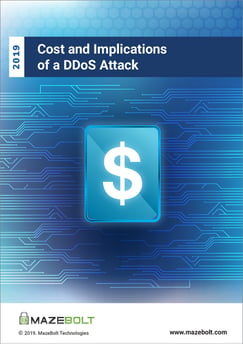 MazeBolt is a leader in DDoS Defenses. It relentlessly works on helping customers to slash down DDoS risk of industry standard 48% to under 2% continuously.
In this Whitepaper, MazeBolt assess various factors that are involved in the impact of DDoS attack cost calculations. DDoS Attack cost and other implications are influenced by short term, long term and immediate factors as well as industry based influencers. The whitepaper helps to arrive on the the DDoS Attack cost, steps to take when under DDoS attack and several other implications of DDoS attacks.
If you want to understand how to use DDoS defenses' to their optimum level and keep DDoS risks to under
2% continuously, please get in touch with us.